816 LC Clamshell Lathe
10 to 16 inches NB | 273 to 406.4 mm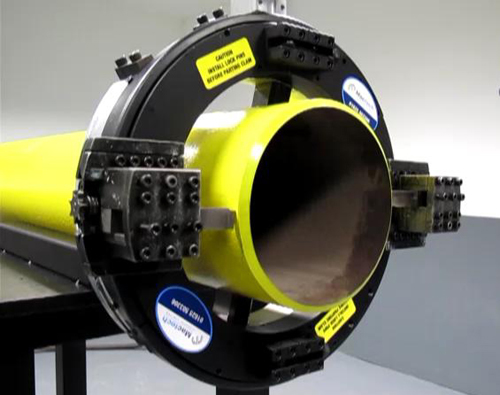 Known as clamshell lathes, split frame cutters, or cold cutting machines in the industry, Mactech Europes portable pipe cutting machines are built for in-situ precision cutting and bevelling of all pipe sizes, schedules and materials.
The LC (Low Clearance) series is designed to fit into tight working areas as well as minimize machine weight so that engineers can machine expected high tolerances in difficult and restricted areas.
These clamshells are lightweight but retain rigidity during operation.
Operational Benefits
Sever or simultaneous Sever / Bevell 10″ to 16″ Nominal Pipe
Cold Cutting in hazardous environments
Exceptionally rigid, split-frame for precise on-site machining
Tool Holder accepts standard 3/4″ or 1″ tool bits
Lightweight, low clearance design for easy handling in tight workspaces
Air Caddy (air filter & oiler) included with air drive systems
Customer setups and drives available for your application.
LC Clamshell Specifications
10 to 16 inch Nominal Bore
273 to 406.4 mm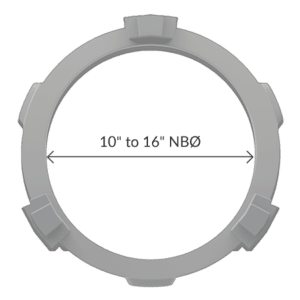 7 Point Star Wheel & tripper
Feed Rate .0035″ (0.09 mm) per revolution
Requirement 100cfm @ 100 psi (2.8m3 /min @ 6.9 bar)
Hydraulic Drive HPU Requirement 10-15 gpm @1000 psi (38-57 lpm@69 bar) continuous pressure – includes hose whips and quick – disconnects
Operating Weights include tool blocks, slides and drive motor
816 LC Air Drive 107 lbs (49 kg) | 816 LC Hydraulic Drive 105 lbs (48 kg)
Approximate Shipping Weights includes equipment and shipping crate
816 LC Air Drive 231 lbs (105 kg) | 816 LC Hydraulic Drive 216 lbs (98 kg)
In-line air, right angle air or hydraulic drive
Air caddy with in-line lubricator and filter (with air drive)
Complete set of Tool Blocks & Slides
Locator pad set to cover entire range
All required hand tools
Gang box for machine storage
Operating manual with parts list
Full line of tool bits
Right angle & reversible drives
Single point machining attachment
Axial Feed Machining attachment
Counterbore / Facing attachment
Hydraulic Power Unit
Need Something Smaller Click on Your Required Size Below!