Articulating Diamond Wire Saw 60a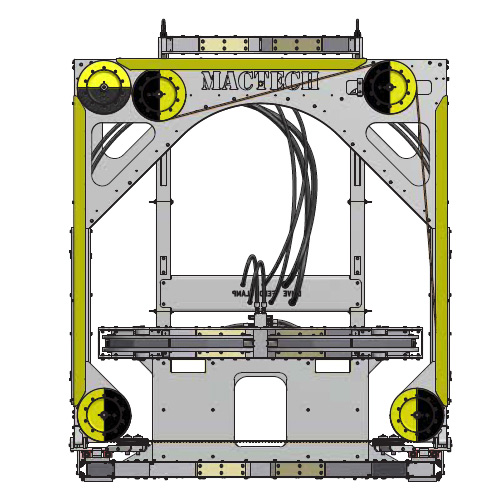 26 inches to 60 inches
660 mm to 1524 mm
The Articulating Diamond Wire Saw has recently emerged as the game changer in the subsea cutting world.
Mactech has recently received patent-approval status for our articulating wire saw system our engineers designed for subsea and topside cutting.
The 60 inch articulating diamond wire saw utilizes an articulating cutting arm for minimal clearance during cuts where other setups may not be able to fit or operate.
Needing only 2 feet of clearance around the object being cut and having the cut set at the bottom of the saw, there is no need for extra dredging. Adjustable guide arms clamp around the piles and the diamond wire runs through a series of pulleys on the unit.
This design reduces setup, installation and removal times, as the guiding arms can be closed loosely around the piles to guide the saw down to cutting level before clamping on.
This can also increase safety on the job as we are able to minimize the need for divers in the water.
Operational Benefits
US Patents 8,651,098B2, 8,833,359,B2,9,010,311B1
Cuts flat with mudline at bottom of the saw
Reduces backside clearance footprint up to 70%, compared to inline DWS
Reduces equipment footprint up to 55% compared to inline DWS
Reduces excavation footprint allowing up to 94% reduction of material to be dredged
Ideal for cutting multi-string applications or heavy wall legs
Designed to reduce setup, installation and cut times
All Mactech Diamond Wire Saws can be customized for ROV capability
Articulating Diamond Wire Saw 60a
26 to 60 inches
660 to 1524 mm
113 x 109 x 128 inches
2870 x 2769 x 3251 mm
Dry 3275 | Wet 2158 lbs
Dry 1485 | Wet 980 kg
Articulating Diamond Wire Saw – Increases Efficiency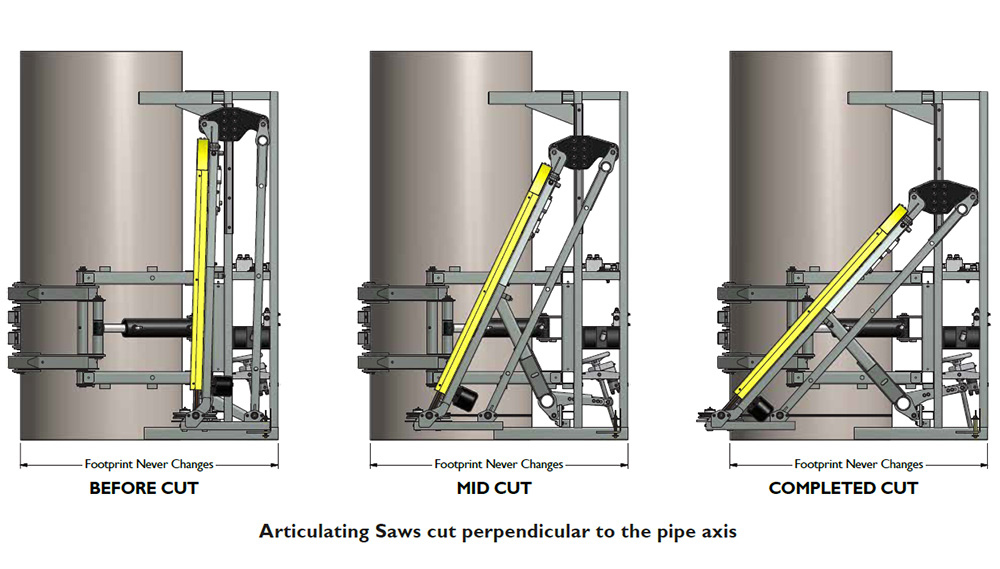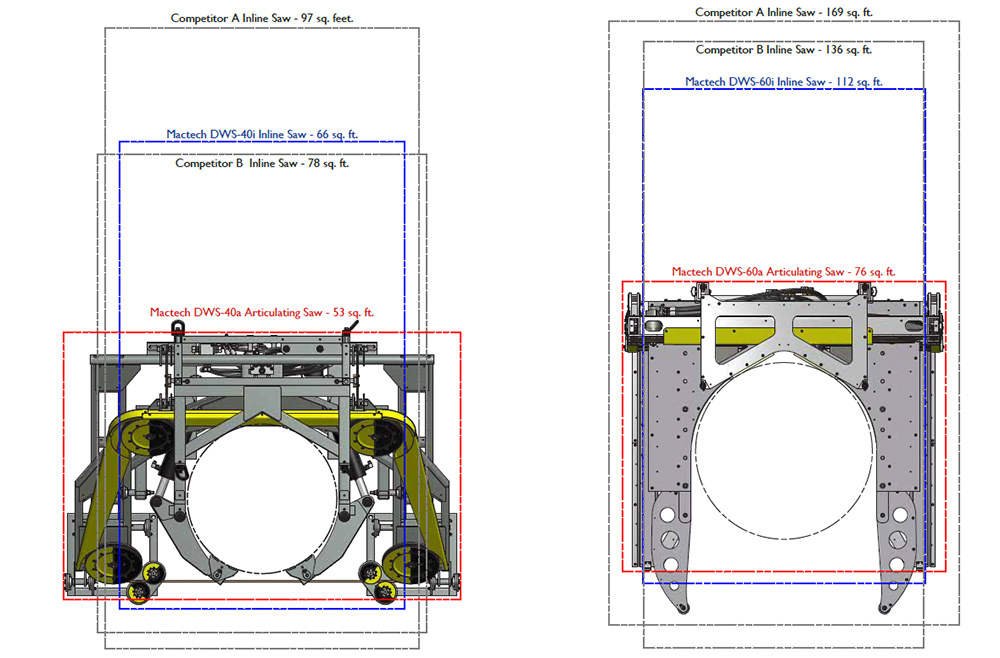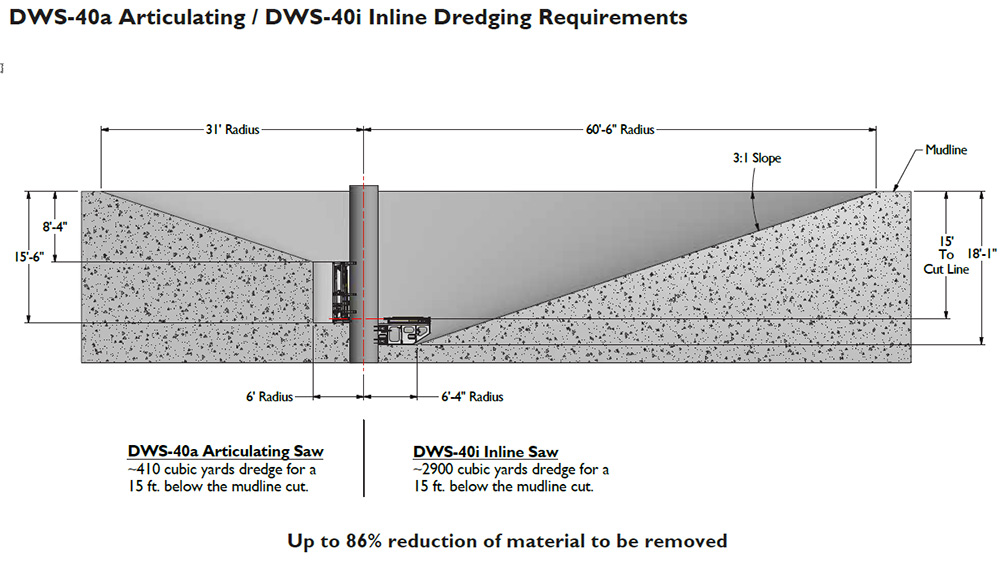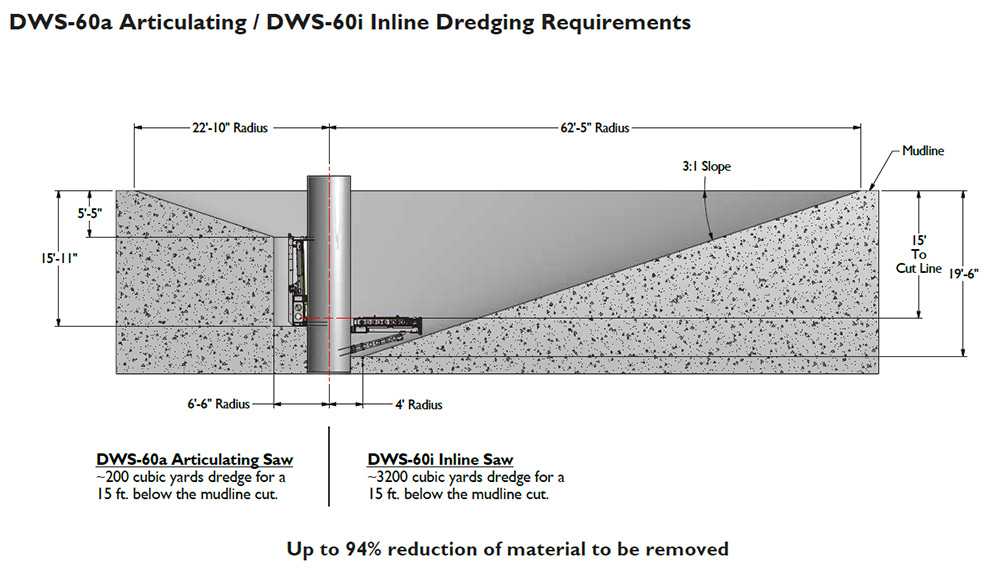 The Smaller Articulating Diamond Wire Saw