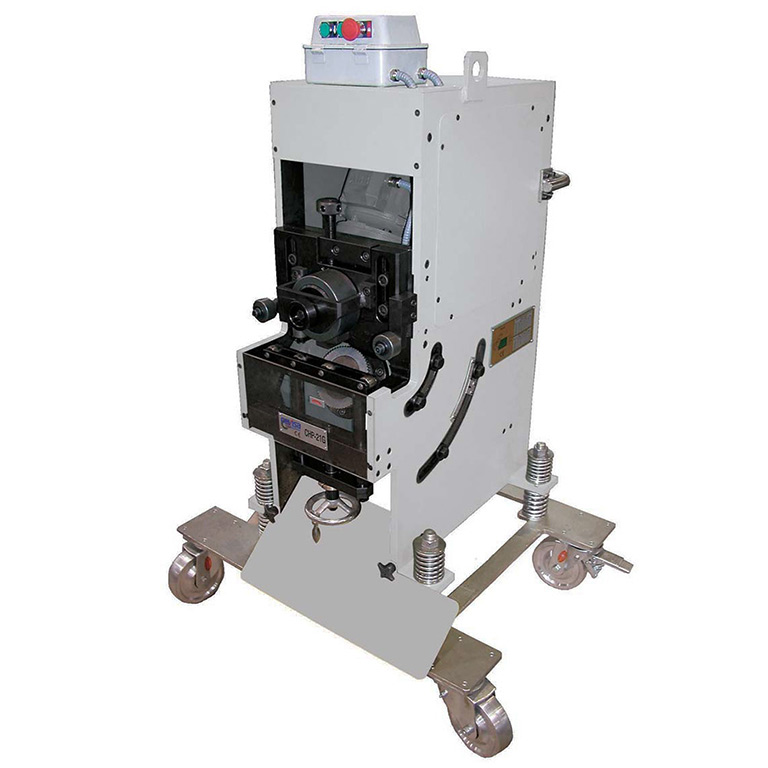 Cevisa Bevelling Machine CHP 21 G INV
Features increased capacity production
Stops turning plates. Eliminate risks and save production time
This beveler CHP 21 G INV is designed to make lower bevels for big and heavy plates without turning them over.
This bevelling machine offers the same features and benefits as its counterpart the CHP 21 G beveler.
The CHP 21 G INV is compatible with the CHP 21 G working in parallel achieves exceptional productivity rate with just one operator.
Cevisa Bevelling Machine CHP 21 G INV Demonstration
Benefits of adjustable shearing cutting bevelling machine CHP 21 G INV
All-purpose tool: one cutter tool for all material.

High performance: bevel speed + bevel depth / min.

All-in-1: wide range of bevel depth, adjustable angeles, built-in trolley, self-feed.

Robustness: reliable, efficient, recommended for 24h services.

Secure: self-monitoring bevel.
Additional Information
Performances
Maximum bevel in one run: 20 mm*
Maximum bevel recommended in several runs: 28 mm*
Maximum recommended thickness: plates and tubes up to 40 mm
Nominal thickness: plates and tubes from 9 mm to 50 mm
Angle variation: from 20° to 45°
Plate beveling: width min. 70 mm
Tube bevelling: Ø min. int.100 mm
Disc bevelling: Ø min. 350 mm
* Dimensions calculated on 400 Mpa steel, bevel length
Bevel blueprint
Plate bevelling: K, V, X and Y bevels
Pipe bevelling: vertical or horizontal position – K, V, X and Y bevels, on the inside or the outside of the tube (depending on diameters).
Bevel speed: 1.7 m/ min.
Specifications
Motor: three-phase
Motor power: 4 CV – 3 kW
Voltage:
220/380 V. 50 Hz.
250/440 V. 60 Hz.
For other voltages, please consult us
Electric box with:
Thermomagnetic switch trip
Emergency stop button
Switcher
Weight
Net weight: 450 Kg
Works height: adjustable from 850 mm to 880 mm
Built-in trolley
Cevisa's beveling machine is provided with:
3 cutters for steel (1 on machine)
1 set of spanners for the machine adjustment
Extras & consumables:
Universal cutter
Plastic rollers to avoid material marking