The Mactech Dual & Single Pin Drill has the power and portability for drilling large rigging and vent holes in casing.
The precision slide and bracket assembly provides an extremely rigid platform for the most demanding drilling jobs, and can be fitted to any of the Mactech clamshell lathes.
Worm drive gearbox and handwheel, allows for precise positioning of the cutters.
The hydraulic/pneumatic motor can easily cut through the toughest casing.
Operational Benefits
Dual Pin or Single Pin Drills Availability
Quickly Drills 2 to 6 inch holes through multi-string casing
Fits on 36 to 65 inch diameter casing, the largest operating range in the industry
Single or Dual Pin Drill setup in one machine
Rolling frame eliminates need for overhead lifting
Modular design allows setup in spaces other drills won't fit
Onboard or remote operator controls
Built of corrosion-resistant materials
Lightest drill in the industry
Built in the USA
Dual Pin Drill Specifications
Single Pin Drill: 6 to 18 inch diameter casing, single-side drilling operation.
Dual Pin Drill: 16 to 36 inch diameter casing, two aligned pin holes per operation.
Two hydraulic drill motor options are included with the Dual Pin Drill.
High-strength stainless steel spindle accepts standard 1-1/4 – 7 threaded hole saws.
Option 1: 8.8 in3, 394 rpm max, 196 ft-lbs continuous torque. Typically used for applications where higher speed and lower torque are required.
Option 2: 22.7 in3, 153 rpm max, 390 ft-lbs continuous torque. Typically used for heavy cutting applications, where higher torque and lower speed are required.
A thru-spindle coolant system flushes cuttings and extends tool life. The right-angle gearbox safely keeps the operator clear of the drilling operation.
Hydraulic Power Requirements
30 gpm @ 1200 psi minimum
Dual Pin Drill Operating Weight: 756 lbs.
Single Pin Drill Operating Weight: 380 lbs.
Shipping Weight: 1645 lbs.
SEPco compliant aluminium shipping crate is available by request.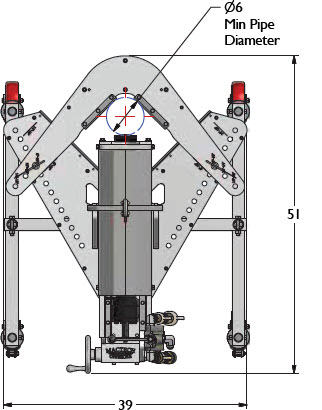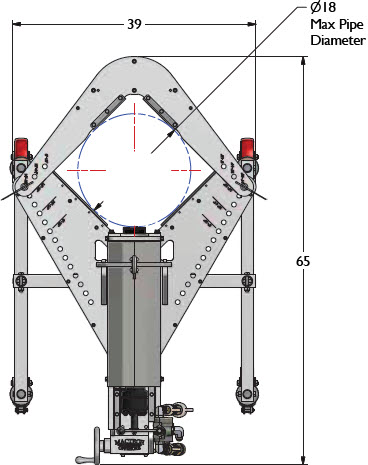 Single Pin Drill Configuration
6 inches
18 inches
21 inches

Feed Rate per Handwheel Revolution

0.10 inches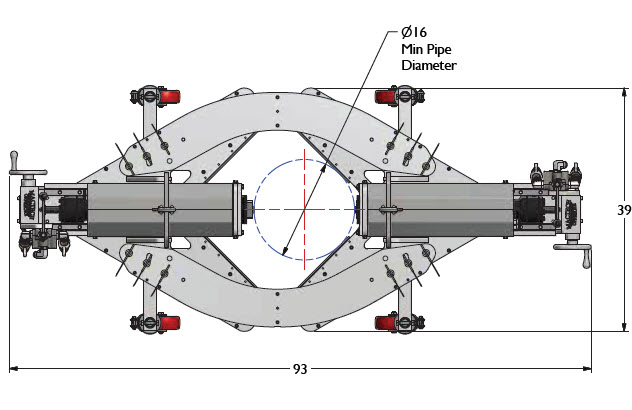 Dual Pin Drill Configuration
16 inches
36 inches
21 inches

Feed Rate per Handwheel Revolution

0.10 inches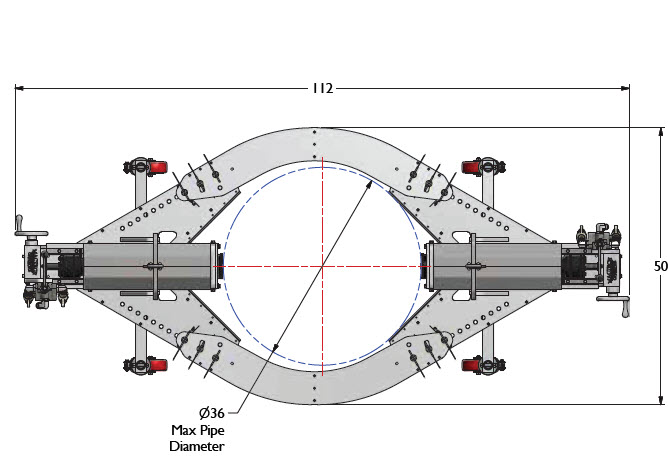 Other Decommissioning Machines