Economy Low Pressure Test Plug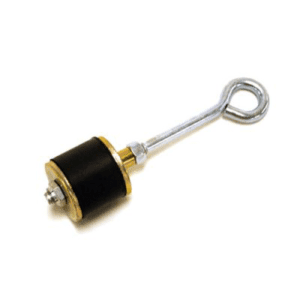 For Low Pressure Testing Of Pipe and Tubing
EST's Economy Low Pressure Test Plugs are designed for simple, reliable testing of pipe and tubing, without the tube wall damage associated with other test plugs.
That's because our Economy Plugs feature a neoprene seal – the only part of the plug that comes in contact with the tube I.D.
Simply install the Economy Test Plug into the open end of a pipe or tube.
Tighten the wing nut (2″ to 4″ sizes use a hex nut) to expand the seal.
Begin pressure testing.
Operational Benefits
Heavy-Duty Construction: Corrosion resistant plated carbon steel with neoprene seal elements.
Versatile: Wide range of available sizes. For larger sizes or special configurations – Contact factory.
Long Wearing Full Disk Seals: Extend plug life.
Easy to Maintain: Replacement seals readily available.
Ordering Information: When ordering, specify pipe/tube ID, maximum test pressure, temperature and fluid medium. Specifications subject to change.
Quality Assurance System: Manufactured under a Quality Assurance Program certified to ISO 9001 and several U.S. nuclear industry standards including ANSI N45.2, NQA-1, 10CFR 50 Appendix B, and 10CFR 21.
Economy Low Pressure Test Plug
Sizes for 3/8″ to 4″ (9.5mm – 101.6mm) Pipe and Tube I.D.
Pressures to 35 psi (2.4 Bar)*
*Note: Maximum operating pressures have been determined by testing performed in clean, dry commercial grade carbon steel pipe.
For maximum operating pressure in other applications, contact EST directly.
Hydrostatic Test & Isolation Plugs