Griptight® Reverse Pressure Test Plug Eliminate concerns over inadequate joint strength when pressure testing welded flange connections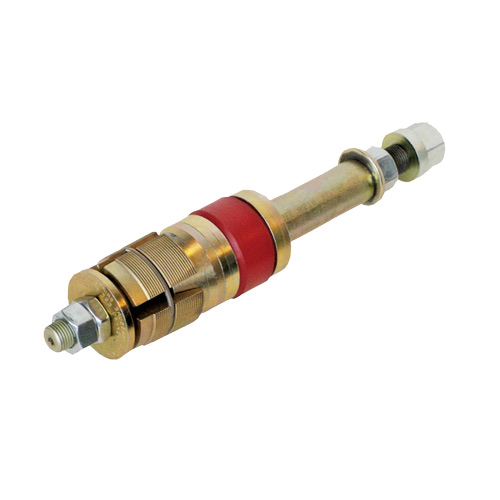 Previous flange weld testing devices have been shown to apply only radial and hoop stresses to the weld location. Use of these devices for pressure testing will not adequately test or verify the longitudinal strength of the flange-to-pipe weld.
EST Group's new GripTight Reverse Pressure (GTRP) test plugs are the solution to the growing concern over the longitudinal strength of flange-to-pipe welds. By isolating the test area between a test flange and our GTRP plug, the flange-to-pipe weld is subjected to the full radial, hoop, and longitudinal stresses – equivalent to the stresses that would be produced when using a test blind to pressurize the entire piping system. Pressure testing using EST Group's GTRP can effectively verify the weld integrity providing the user confidence that the flange and weld will properly function when placed into service.
Pressure testing flange-to-pipe welds with EST Group's GTRP eliminates the need to blind, fill, and pressurize the entire piping system, which in turn reduces the need to properly handle and dispose of potentially contaminated test fluids. Testing performed with the GTRP is quick, easy, and safe and meets the requirements of ASME/ANSI B16.5.
Our standard GTRP plugs allow testing to pressures up to 2,250 PsiG (155 BarG), which covers up to ANSI 600# class service. Plugs are available in sizes 2″ to 12″ (DN50 – DN300), additional plug sizes and higher test pressures available upon request.
Operational Benefits
Real World Service Conditions – Provides a solution where the weld joint is subjected to 100% of the hydrotest stress – radial, hoop and longitudinal Test simulates.
Sizes from 2″ through 14″ NPS from stock – larger or smaller sizes available.
High Performance – Working pressures to 2,250 psig (154 Barg) – higher pressures available
Safer – Uses proven GripTight – self gripping action
Reduce Cost – Uses a minimal amount of water per test
Griptight® Reverse Pressure Test Plug
Available for pipe sizes ranging from 2″ to 12″ (DN50 – DN300).
Larger sizes available upon request.
High Performance – Working pressures to 2,250 psig (154 Barg)
Higher pressures available
The plug and test flange act independently of each other so that the weld joint is subjected to real world stresses during pressure testing
Flange to pipe welds are tested without needing to pressurize the entire system
Hydrostatic Test & Isolation Plugs