Hydraulic Power Unit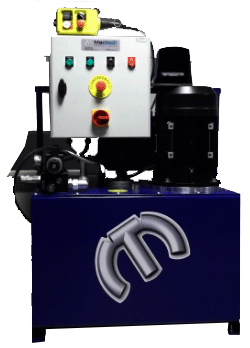 The Mactech Hydraulic Power Unit is a general purpose portable source of hydraulic power. It is driven by a 7.5KW 415volt 3 phase 50hz electric motor giving a system pressure of 84 bar with a flow rate of 48 litres per minute.
The standard oil tank capacity is 180 litres of type VH-46 hydraulic oil. Flow is fully adjustable by a priority flow control valve and flow is available from A and B ports on the directional valve manifold. An adjustable relief valve is fitted to the directional valve.
Oil temperature is regulated by a thermostatically controlled blast cooler. The unit is remotely controlled by a pendant handset with a safety foot switch.
The H.P.U. is of compact design measuring 800 wide x 600 deep x 1200 high and weighs 225 Kg empty.
Typically the HPU can be used to power the Mactech (Europe) Ltd range of End Prepping Machines and Clamshell lathes when they are fitted with the hydraulic motor option.
They can also drive the hydraulic motors of milling rails, gantry mills, boring bars and drilling machines.