Mactech Europes portable BB1750 Bore Repair System is a powerful and versatile machine for in-line bore machining, welding and repair.
The compact size and easy set-up make this one of the most efficient bore repair systems on the market.
A powerful variable speed motor can cut through the toughest materials.
The spherical fixture mounting system makes installation and centering easy and accurate.
The BB1750 can be changed from machining to welding in seconds using the same set-up, making your bore repairs quick and easy, all done on-site to save the time and expense of shop repair.
Features & Benefits of BB1750 Boring Bar
1¾ inch Boring Bar
Variable Speed
Electric, Air or Hydraulic Drive
2 to 10 inch bores
Bi-directional Variable Feed
Manual Feed Adjustment
Uses standard ½ inch tooling
Balanced weight distribution along length of the bar
Mactech BB1750 Line Boring Bar
The Mactech BB1750 Boring Bar is a complete system designed to machine bores 2 to 10 inches inside diameter.
The BB1750 system includes all components required for a basic ID machining setup.
A complete system for on-site bore repair is available, which includes the boring bar package and bore welder.
Boring bars are available in several standard lengths, up to 144 inches.
The BB1750 accepts standard 1/2 inch square tooling. A variety of bearing supports, alignment cones, and extended tool holders are offered by Mactech.
Contact Mactech sales for a complete listing of accessories and options.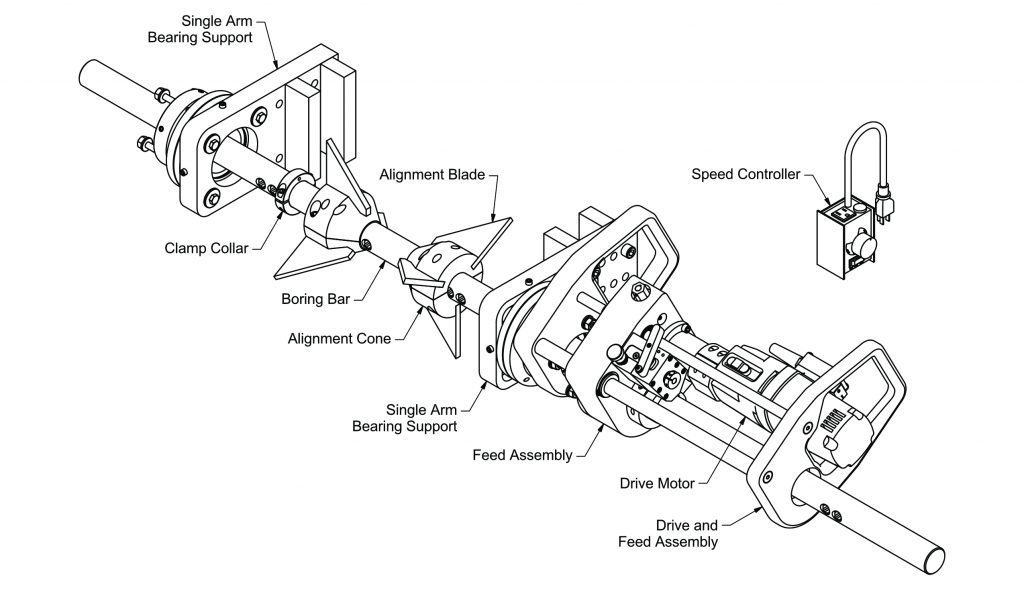 Additional Information
| | |
| --- | --- |
| Drive Unit | |
| Electric | Variable speed, 110V, 10.5 amps, 32 ft-lbs (43Nm) torque, 250/450 rpm |
| Pneumatic | 300-400 rpm |
| Hydraulic | 300-400 rpm |
| Feed Unit | Bi-directional, variable feed, 0-.020 inches (0-0.5mm) per revolution |
Two alignment cone assemblies for 4-10 inch (102-254mm) bores.
Self-aligning bearing mounts with spherical bearings.
Tool holder for 1/2 inch (13mm) tooling.
Extended tool holders for up to 10 inch bores.
1.75 inch (45mm) diameter, chromed, two 1/2 inch (13mm) broaches every 6 inches (152 mm) for tool and measuring devices.
Looking for an alternative?