This tough and durable 2 ¼" Portable Boring Bar adds versatility whilst saving both time and money repairing diggers, earthmoving and heavy duty quarry equipment in-situ.
Available to rent or purchase from stock at short notice
Features & Benefits of BB2250 Boring Bar
Quick and extremely easy to set up for immediate use!
The BB 2250 high torque gear drive equals more cutting power.
Reliable and strong feed box arrangement.
Covers a wide range of applications and sizes.
Precision chromed boring bars
Bore Weld from the same set-up
Small Diameter Bore Kit
Hydraulic Electric or Pneumatic Drive
Boring Capacity to 16" +
Facing Capacity to 18" +
Mactech BB2250 Line Boring Bar
The Mactech BB2250 Boring Bar is a complete system designed to machine bores 2-1/2 to 16 inches inside diameter.
The BB2250 system includes all components required for a basic ID machining setup.
Air, hydraulic or electric drives are available.
A complete system for on-site bore repair is available, which includes the boring bar package and bore welder.
Boring bars are available in several standard lengths, up to 144 inches.
The BB2250 accepts standard 1/2 inch square tooling.
A variety of bearing supports, alignment cones, and extended tool holders are offered by Mactech. Contact Mactech sales for a complete listing of accessories and options.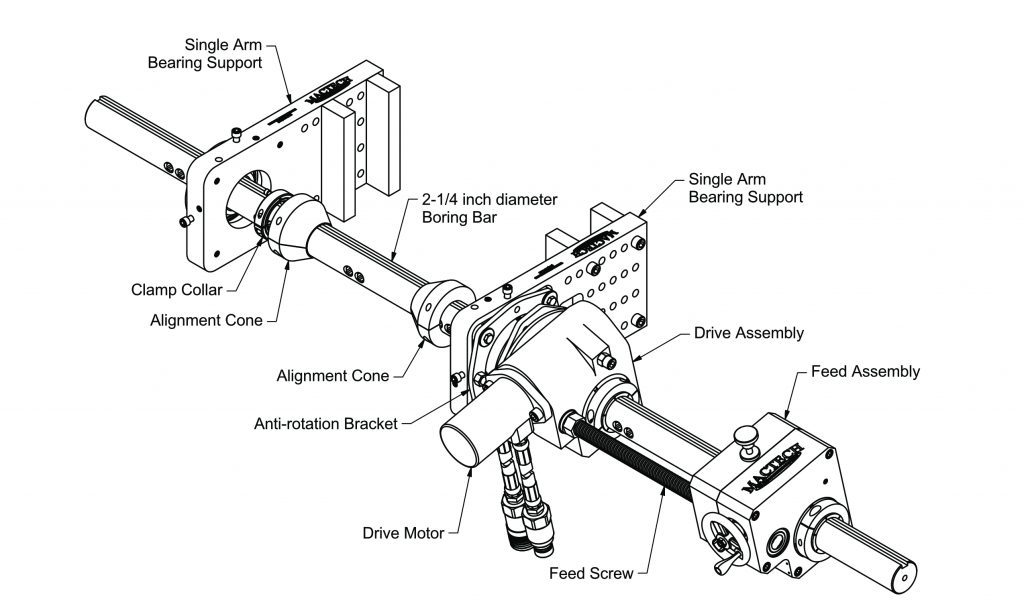 Additional Information
Drive Unit
Right angle worm gear drive with 6:1 reduction ratio
Electric
1.9 HP (110V or 220V) standard 10-80 RPM High Torque Model 5-40 RPM
Pneumatic
3.5 HP; 0-80 RPM
Hydraulic
Varies by motor and pump selections
Feed Unit
Infinitely variable .000-.015" per revolution. Bidirectional and adjustable during operation Manual crank allows rapid reset
Travel
12"-30" with 18", 24" or 36" feedscrews
Tool Holders
High grade alloy steel accepting ½"
Tooling for rigid and aggressive cutting
Facing Arm attachments available
Split aluminum cone sets are standard
Self aligning spherical bearings with adjustable mounting bracets for ease of set up
2 ¼" precision chromed bars broached every 6" for toolset
Standard bar length: 4', 6' and 8' any length is available
Double broach option: allows for precision bore measurement with the bar left in place
1 ¼" Small diameter precision chromed and keyed bars available
Standard bar length 4', 6' and 8' any length is available
Looking for an alternative?