Magbroach Portable Magnetic Drilling Machine MDS40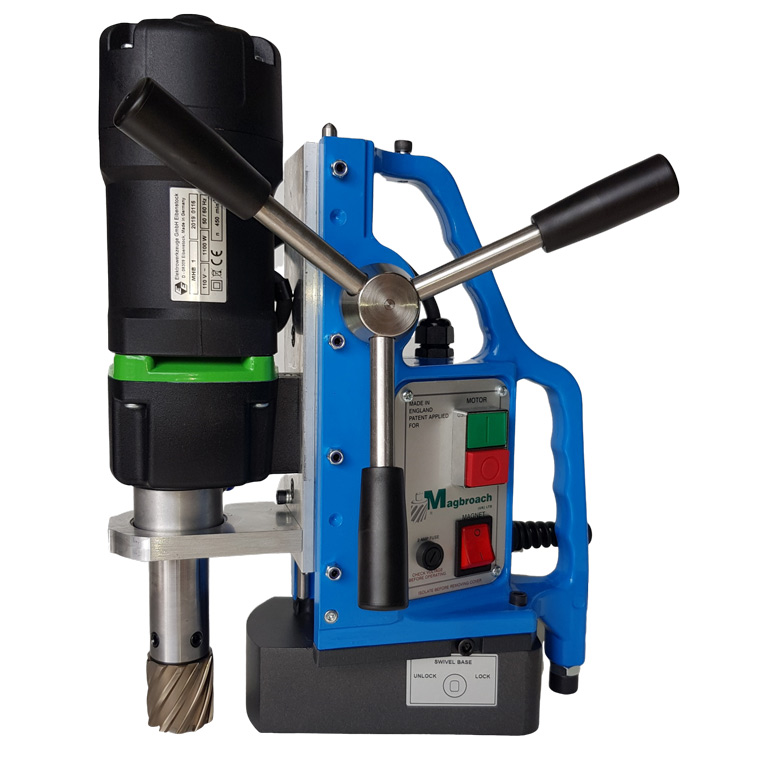 MDS40 Twin Rail Slide System
Swivel Based Magnet
Cutter Capacity 12-40 mm 7/16 – 19/16 inches
Cutter Depth of Cut 110 mm 4½ inches
This perfected innovative design is the result of conscious and consistent research and development with built-in safety features as standard on all machines.
Magbroach Portable Magnetic Drilling Machines are built to the highest standard with High-Tech electromagnetic bases.
The most powerful motor units are made in Germany and have been specially adapted for our needs, plus PCB Control boards with built in interlinked safety features unique to the machines.
Magnetic Drilling Machine MDS40 | Swivel Based Magnet
Advantages over other brand Machines using Dovetail Systems
T.R.S.S. Maximises slide stability.
Up to 10 times better stability than dovetail systems.
The slide has no contact with main body of machine.
Reduced friction less wear.
Low maintenance better reliability
Reduced cutter breakages due to better slide stability.
Improved cutter life.
Better tolerance achievable.
Improved hole quality.
Up to 110mm cutting depth with cutters with small machine.

MD40 Magnetic Drill Specifications
All machines supplied in plastic carry case with allen keys safety chain with carabina hook and coolant system.
All models available in 110/120 volts ac 50/60hz and 220/240 volts ac 50/60hz.
| | | | | |
| --- | --- | --- | --- | --- |
| | | MD40 | | MDS40 |
| Motor Watts | | 1100 | | 1100 |
| Total Power Watts | | 1150 | | 1150 |
| Speed No Load Rpm | | 720 | | 720 |
| Speed Full Load Rpm | | 450 | | 450 |
| Arbor/Drive Weldon | | 19mm | | 1100 |
| Cutter Capacity | | 12-40 mm | | 12-40 mm |
| Cutter Depth Of Cut | | 110 mm | | 110 mm |
| Drilling Capacity | | 3-16 mm | | 3-16 mm |
| Countersink Capacity | | 10-30 mm | | 10-30 mm |
| Slide Stroke | | 170 mm | | 180 mm |
| Magnetic Adhesion | | 1100kg | | 1100kg |
| Magnetic Foot | | 85 x 170mm | | 85 x 170mm |
| Magnet | | Fixed | | 360 Degree Swivel |
| Overall Height | | 320mm | | 320mm |
| Overall Width | | 120mm | | 120mm |
| Overall Length | | 280mm | | 280mm |
| Arbor For Cutters | | 19mm | | 19mm |
| Coolant System | | Through Arbor | | Through Arbor |
| Weight | | 11.5kg | | 12kg |