Vacuum Tube Testing Gun G-250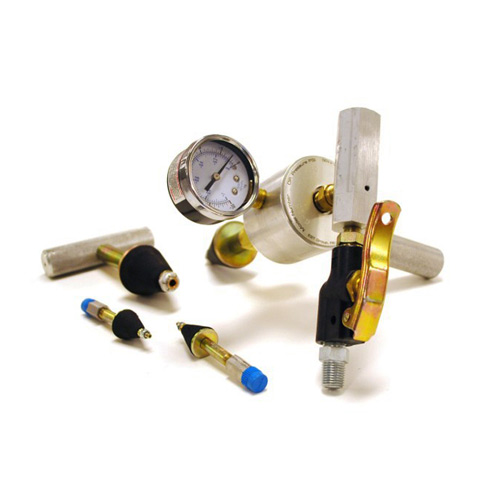 0.28 to 1.45 (7.1 – 36.8 mm)
Provides a Fast and Effective Method for Pneumatically Testing Heat Exchanger Tubes and Tube-to-Tubesheet Joints for Leaks
G-250 Vacuum Tube Testing Guns are designed to quickly seal off and evacuate individual heat exchanger tubes to test the tube for leakage.
Operation is easy. Connect standard plant air supply to the active vacuum gun and insert the conical seal into the end of the tube to be tested. Insert the passive plugging tool into the opposite end of the tube.
Depress the air control valve, air flows through the vacuum generator and evacuates the tube. Release the air control valve and any loss of vacuum indicated on the vacuum gauge identifies a leaking tube.
An optional digital vacuum gauge increases the operators ability to detect even the smallest pinhole leaks.
Operational Benefits
Two sizes of seals: The G-250 Set is supplied with two sizes of interchangeable conical neoprene Seal and Washer Sets and a compact toolbox.
Tube sizes for testing: The Seals and Washer Sets allow the G-250 to be utilized to test heat exchanger tubes ranging from 0.28″ to 1.45″ (7.1mm to 36.8mm) ID.
High strength allow: The G-250 Gun are machined form high strength aluminum alloy reducing the fatigue associated with heavier testing equipment.
Light Weight: Each G-250 Set weighs less than 2.5 lbs (1.1kg).
Includes two standard seal and washer sets:
Allows testing from 0.28 to 1.45 (7.1 – 36.8 mm).
Optional seals available to allow testing to 2.5
Gun and T-handle weigh less than 2.1 lbs (1 kg)
Quality assurance system certified to ISO-9001
Quality assurance system that meets requirements of ANSI N45.2, 10CFR50 Appendix B, 10CFR21
Specify the following information when ordering:
Tube OD and wall thickness
Tube length, tubesheet face-to-face dimension
Number of tubes to be tested
Length or depth of any channel head or header box present
Vacuum Tube Testing Gun G-250