Griptight Max® Test Plug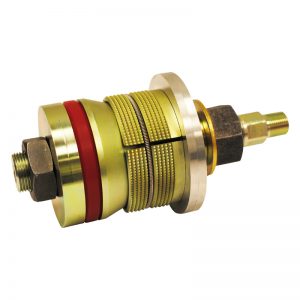 Engineered for pressure testing open-ended pipe in applications such as down hole / well-head piping, high pressure steam systems and high alloy hardened materials*. GripTight MAX Test Plugs eliminate the need to weld on / cut off end caps, allowing you to self-perform pressure tests! Cutting down on testing time and additional man hours needed for craft work.
Patented dual serrated grippers offer additional gripping points on the pipe ID, providing the strength necessary to safely test at higher pressures. As the pressure increases the seal and grippers work together to form a leak tight seal creating a safe environment for testing.
Test Pressure: Up to 15,000 PsiG (1,034 BarG)
Size Range: 3/8" – 24" NPS (DN10 – DN600) Stock – sizes up to 48" NPS (DN1200) available upon request
Standard Seal Material: Urethane – alternative materials available upon request
Operational Benefits
Easy Installation – no welding required
Saves up to 80% in testing time vs. welded-on end cap procedures
Patented dual-serrated gripper design uses test pressure to increase holding capabilities
Hardened shaft, cone and grippers increases durability, plug life and reduces wear
Laser-marked for easy storage and traceability
Compatible with materials up to HRC32
Facilitates testing in accordance to ASME Boiler and Pressure Vessel Codes
GripTight MAX plugs are also effective for testing non-metallic materials such as Fiberglass Reinforced Plastic (FRP) and Glass Reinforced Epoxy (GRE) piping systems
Hydrostatic Test & Isolation Plugs