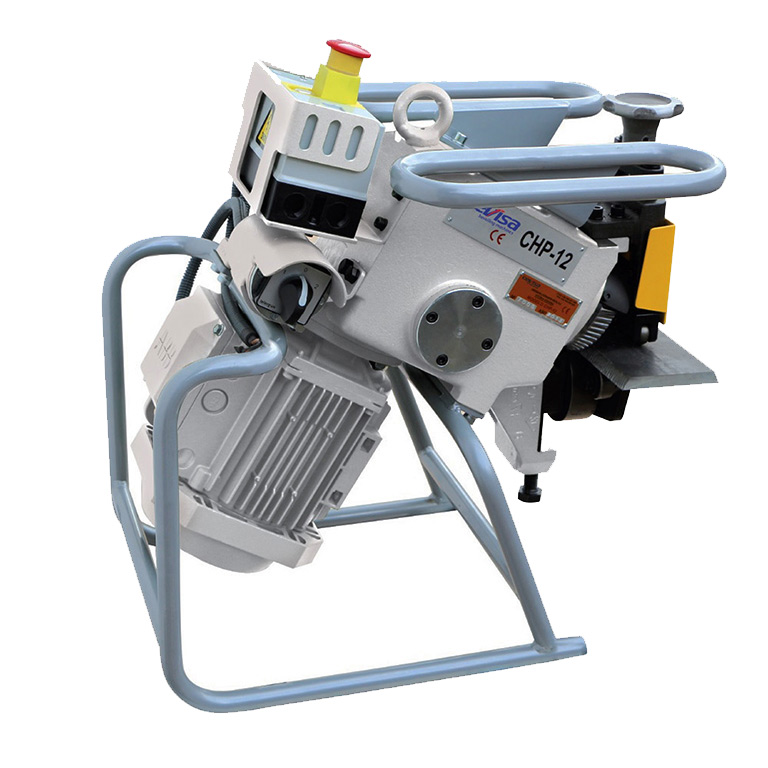 Plate and Tube Beveller CHP12
The Most Versatile Bevelling Machine
CEVISA is a pioneer in the design and manufacturing of bevelling machines
Unique flexible bevelling machine able to bevel plates and tubes, including large diameters. Its flexibility, versatility and high speed bevel, make the CHP 12 the first model to be sold all over the world with years of international success.
The early design dates back to 1972, built into our corporate Cevisa DNA, exported to thousands of companies across the 5 continents, being a reference for steel industries. In short, it was created to optimize welding preparation processes.
The beveller CHP 12 remains the most efficient and reliable bevelling machine on the market. It replaces manual tiresome processes for workers, avoiding high production costs for the company.
Proven high cost-effectiveness, 6 meter plates bevelled in less than 3 minutes
Cevisa Plate and Tube Beveller CHP12 Demonstration
Benefits of plate and tube beveller CHP 12
High average cutters lifespan : about 1.000 m

High profitability: Extremely low cost/beveled meter/ minute

Zero maintenance.

Self-feed.

Easy-to-handle and easy to use.

Flexible
Additional Information
Performances
Speed: 2.6 m/min
Maximum bevel in one run: 12 mm*
Maximum bevel recommended in several runs: 17 mm*
Maximum recommended thickness: plates and tubes up to 20 mm
Nominal thickness: plates and tubes from 6 mm to 40 mm
Double bevel with 2 machines working in parallel: CHP 12 + CHP12 INV
Plate beveling: width min. 55 mm (for smaller width, please consult)
Tube bevelling: Ø min. int.100 mm
Disc bevelling : Ø min. 350 mm
* Dimensions calculated on 400 Mpa steel, bevel length
Bevel blueprint
Plate bevelling: K, V, X and Y bevels
Pipe bevelling: vertical or horizontal position – K, V, X and Y bevels, on the inside or the outside of the tube (depending on diameters).
Bevel speed: 2.6 m/ min.
Specifications
Motor: three-phase
Motor power: 3 CV – 2.2 kW
Voltage
220/380 V. 50 Hz
250/440 V. 60 Hz
For other voltages, please consult us
Electric box with
Emergency stop button.
Thermomagnetic switch trip.
Weights
Net weight: 65 Kg
Works height: adjustable
Switch
Cevisa's beveling machine is provided with
3 cutters for mild steel (1 on machine)
1 angle variation device – 30°
1 device to bevel tubes
1 set of spanners
Extras & consumables
Cutters for mild steel
Cutters for stainless steel
Cutters for aluminum angle variation devices: 22.5 – 25º – 30º – 35º – 37.5º – 45º (For others angle, please enquire)
Plastic rollers to avoid material marking
Spare part for small width plates: min. plates width 20 – 25 – 32 and 40 mm